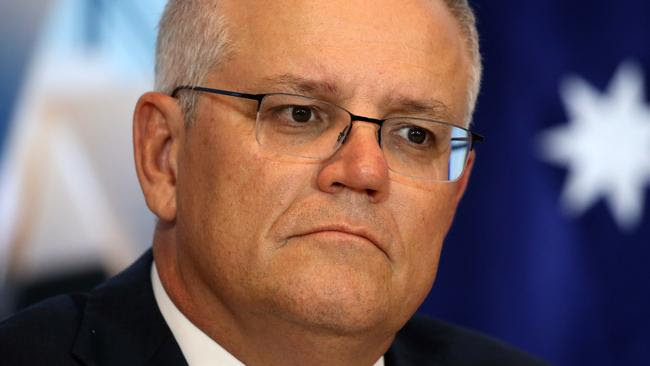 Scott Morrison has flagged that the number of new COVID-19 cases from India in hotel quarantine has not risen dramatically. Picture: NCA NewsWire / Christian Gilles

Indian-Australian business leaders are calling on the government to reconsider reducing flights from India by 30 per cent amid soaring infection rates, arguing that COVID-19 cases should not leak out into the community if the hotel quarantine system is working.
The chairman of the Confederation of Indian Industry Australia, Ahbay Mehta, said that, if the hotel quarantine system was functioning as it should, health authorities would be able to detect any cases in incoming passengers from India before they left isolation.
"If it's working properly then I think it should catch anyone who does come here with COVID-19, so we shouldn't have to reduce the number of flights by 30 per cent if there was that confidence in the quarantine system," he said.

Australia-India Business Council chairman Jim Varghese said the decision to reduce flights would "undoubtedly" have an economic impact on businesses and it was imperative the Morrison government did as much as possible to ensure continued trade between the two nations.
"AIBC wants to ensure that the trade and investment in India continues to have the highest level of support across party lines. India is an especially important economic powerhouse for Australia and is part of the Quad," he said.
Mr Mehta said that while a temporary pause on flights from India might be necessary due to escalating cases it could not be a long-term solution as there were thousands of Australians stuck in India desperate to return home.
"I think it (returning them home) should have been done much earlier," he said. "I'm worried that the window of opportunity for them to return has now closed."
Scott Morrison has flagged that the number of new COVID-19 cases from India in hotel quarantine has not risen dramatically despite the escalating health crisis in India.
The Prime Minister on Friday said that the quarantine system was working well and flagged further announcements on border closures as Canada moved to ban all incoming flights from India for 30 days.
"I should stress this also: the total number of cases in quarantine, albeit that a proportion of those that have originated from India, the total number of cases that are occurring in quarantine are about the same they have been all year," he said.
"We haven't seen a spike in the number of total cases over that ­period of time. There's been a slight increase in the last week or so … the quarantine system is not failing because of that at this point."
Mr Varghese said a reduction in flights would further affect the Indian community in Australia, which was already struggling due to the backlog of residents desperate to return to Australia.
"This is certainly impacting the Indian community here and certainly from a business perspective it's having a big impact," he said. "We want to ensure the trade and investment continues to have a big support across party lines."
Mr Varghese said there would be few in the Indian diaspora that hadn't experienced the heartbreak of having a relative suffer with or die from COVID-19.
"I personally have a cousin who died in India from COVID -19 and many in the Indian diaspora have experienced this and that inability to attend a funeral … so anything the bilateral governments can do to achieve continued travel and trade is worthwhile," he said.
REPORTER
Olivia Caisley is a federal politics reporter based in the Canberra press gallery